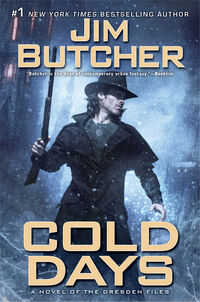 Cold Days has arrived!!
So far, there has been a great outpouring of praise among critics and readers alike.
Amazon.com is currently showing a customer rating of 4.7/5 stars, while Barnes & Noble.com has Cold Days sitting with 4.21/5 stars.
Here are what some of the top critics are saying:



---
"[Jim] Butcher is the dean of contemporary urban fantasy."
—Booklist
---
"Harry Dresden is perhaps the best-written supernatural detective working today."
—SF Revu
---
"If there is an author that defines urban fantasy, it is Jim Butcher."
—Fresh Fiction
---
"What would you get if you crossed Spenser with Merlin? Probably you would come up with someone very like Harry Dresden."
—The Washington Times
---

<poll> If you've finished it already, what did you think of Cold Days? Best of the series to date! On par with Butcher's best writing Average among the other books in the series (which are all good) A little disappointing Terrible </poll>
And now it's time for the reviews that really count: yours! Leave a comment below, and voice your opinion on the latest in the Dresden Files series - Cold Days.
---
---
Ad blocker interference detected!
Wikia is a free-to-use site that makes money from advertising. We have a modified experience for viewers using ad blockers

Wikia is not accessible if you've made further modifications. Remove the custom ad blocker rule(s) and the page will load as expected.