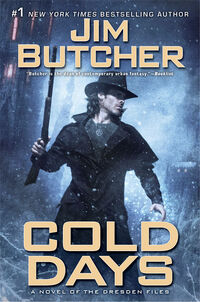 There isn't much time left until Jim Butcher's latest novel in the Dresden Files series, Cold Days, comes out! A lot of people who read the series say that The Dresden Files series include wit, sarcasm, adrenaline, fantasy, a vivid portrait of the Chicago landscape, wizardry, and supernatural and preternatural beings galore!
In Cold Days, our hero Harry Dresden has to find a way to get out of his debt to Mab and avoid the annihilation of countless innocents!
Interested? Then read more here!
<poll> Will you be reading Cold Days after it's published? Yes Maybe No </poll>
---
---