Storm Front
Talk

0
667pages on
this wiki
This article is about the novel. For the television episode of the same name, see Storm Front (TV episode) and for the graphic novels, see Storm Front, Volume 1: The Gathering Storm and Storm Front, Volume 2: Maelstrom.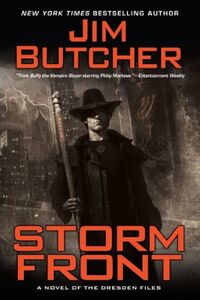 Storm Front is the first novel in the The Dresden Files series by Jim Butcher, published in 2000. It has twenty-seven chapters.
It is a contemporary crime fantasy novel set in Chicago, where the protagonist Harry Dresden is a professional Wizard and private investigator.
Harry Dresden is the best at what he does. Well, technically, he's the only at what he does. So when the Chicago P.D. has a case that transcends mortal creativity or capability, they come to him for answers. For the "everyday" world is actually full of strange and magical things -- and most of them don't play well with humans. That's where Harry comes in. Takes a wizard to catch a -- well, whatever.
There's just one problem. Business, to put it mildly, stinks. So when the police bring him in to consult on a grisly double murder committed with black magic, Harry's seeing dollar signs. But where there's black magic, there's a black mage behind it. And now that mage knows Harry's name. And that's when things start to get... interesting.
Magic. It can get a guy killed.
Characters (In order of appearance)
Edit
(bold names are characters who appear again in later books; names struck out are characters that die in the novel.)
We're introduced to Harry Dresden, the only openly practicing wizard in the country. He works as a private detective in Chicago, but business has been slow. He gets a phone call from a woman named Monica who wants him to find her husband. She agrees to meet at his office later. He then gets another phone call, this time from Lieutenant Murphy, director of Chicago Police Department's Special Investigations unit. Harry sometimes works for them as a paid consultant. Murphy wants Harry to help her with a strange double murder that took place at the Madison Hotel. Harry agrees and heads out.
The two dead bodies are a man and a woman, who were killed in the throes of passion, by having their hearts ripped out of their chests. The woman is Jennifer Stanton, a high-end prostitute who worked at a place called the Velvet Room. The man is Tommy Tomm, who'd been an "enforcer" for "Gentleman" Johnny Marcone, Chicago's premier crime boss.
Harry describes the basic theory of how the two could have been killed with magic, but Murphy says she needs to know the details. Harry is reluctant; he is already under the Doom of Damocles (sort of the wizard version of probation) with the White Council, for violating the First Law of Magic. To help Murphy, Harry would need to research the spell, which might be all the suspicion the council would need to execute him. However, he agrees to help.
Suddenly realizing he is late for his appointment with Monica, Harry heads back to his office, but is intercepted along the way by John Marcone and some of his bodyguards. Marcone wants to pay Harry to not investigate Murphy's case, offering him a lot of money. Harry refuses. Marcone tricks Harry into a soulgaze, tells him to rethink his answer, and drops him off at his office.
There, he meets Monica. She wants Harry to find her husband, Victor Sells, who's been missing for three days. She knows that he wouldn't have left his family, and she's worried about him. When Harry asks her why she wants to hire him, in particular, she explains that her husband has recently gotten interested in magic, and she thinks it might help if whoever found him can talk to him about that. At Harry's prompting, she suggests that he might have gone to their lake house in Lake Providence. She also gives Harry one of the few personal items Victor didn't take with him: a preserved scorpion. Harry notes that if this is an actual talisman used for magic, it's the kind that is generally used for dark magic, which Harry slips it into his desk drawer.
Harry goes to McAnally's, a pub that caters to the supernatural community. The pub is owned and run by Mac, a man of few words. Looking through a nearby newspaper, Harry notices a story about a couple ThreeEye junkies going on a rampage. ThreeEye is a new drug that supposedly gives people the third sight, which Harry doesn't think is possible. Meanwhile, Susan Rodriguez enters the bar looking for Harry. Susan is a reporter for the Chicago Arcane, a yellow magazine that covers paranormal events. She's heard about Harry getting called in on the double murder by Murphy and wants Harry to give her some details, which he refuses to do. There's mutual attraction between the two of them, and Susan tricks him into agreeing to go on a date with her.
That night, Harry drives out to the Sells' lake house. He notes subtle clues that perhaps someone has been staying there. He summons a local faerie that he knows, named Toot-toot, who says that another faerie saw pizza being delivered to the house the previous night. The faerie also saw mortals "sporting," which Harry understands to mean sex. He's getting ready to return home and get some sleep when a man with a sword appears.
The man is Morgan, a warden of the White Council who has been assigned to watch over Harry's use of his power. Morgan thinks that Harry was the one who killed Jennifer Stanton and Tommy Tomm. If Harry can't find the true culprit, he risks taking the fall for the act, but to help Murphy track the real killer, he'll need to research the spell that was used, which could be enough for the White Council to execute him anyway. He eventually leaves with an ominous "I'll be watching you."
Returning home to his basement apartment, Harrry's too wound up to sleep, so he goes to his lab, in the subbasement, to make some potions. In the lab, we meet Bob, a spirit of air and intellect that resides in a bleached human skull, and essentially acts as Harry's research assistant. Harry makes an escape potion and a love potion.
The next evening, Harry goes to the Velvet Room to see the owner, a Red Court vampiress named Bianca. Bianca thinks Harry killed Jennifer Stanton, and attacks him. Harry fends her off, tells her that he didn't kill Jennifer, and that he only wants to talk. They come to a shaky truce. Bianca reveals that Jennifer sometimes went out on calls with another woman, Linda Randall. The two women were close, so Linda might know something of the situation with Jennifer and Tommy. Bianca tells him that Linda's currently working as a driver for some rich couple. As Harry is getting ready to leave, Rachel returns. Not wanting to turn his back on the vampire, Harry is treated to the view of Rachel offering herself willingly to Bianca, who starts to feed on the girl's blood. On his way out, Harry is provided the phone number of Linda Randall, but he realizes that Rachel isn't coming out of that room.
Harry calls Linda Randall, but she refuses to talk to him. However, he hears announcements in the background that lead him to believe that she's outside a terminal at O'Hare airport, probably waiting to pick up her employers. Harry hurries there, finds her, and knocks on the limo window. Having little choice, Linda tells Harry that she used to live with Jennifer, that they were lovers. She tells Harry that Jennifer called her a couple evenings ago, that it was Tommy's birthday, and they wanted Linda to join them for a sort of reunion. She couldn't, because she had to work. Harry senses that she's hiding something, but he can't tell what. At that point, Linda's employers, the Beckitts, show up, and Linda has to get back to work, but not before Harry slips her his business card. Harry then decides to follow up on Toot's clue and calls the only pizza place that delivers to the Lake Providence house and speaks to the driver who delivered the pizza. Apparently, someone else had called earlier to speak to him, and he thinks Harry is the same person. He assures Harry that he won't say anything to anyone about the orgy that he witnessed inside the house. He also tells Harry that there was a man with a camera lurking outside the house. Having no more real leads to follow, Harry decides that he's going to have to do the black-magic research, and heads home. Outside his apartment, Harry is ambushed by a man who smacks him in the head with a baseball bat and warns him off from his investigation.
Harry spends the rest of that night and early the next morning researching the spell. When he's done, he heads to the police station to inform Murphy. While waiting for her, he has an encounter with a ThreeEye junkie which makes him start to believe that the rumors about the drug granting its users the third sight might actually be true. He tells Murphy that the spell would require a lot of power. He explains to her that he went to see Bianca, and he doesn't think it was meant as a message for her; it was meant as a message for Johnny Marcone. Murphy mentions that there is a gang war in the streets, and Harry starts to put some of the pieces of the puzzle together. He correctly guesses that the war involves drugs: ThreeEye suppliers versus conventional drugs. If ThreeEye is the real thing, then it would require a very powerful wizard to manufacture it in large quantities, so he believes that whoever is supplying the drug is the same one who killed Jennifer and Tommy. Then. his head pounding, Harry faints, concussed from the earlier blow to the head.
Murphy takes him home. His phone rings, and Harry answers it. It's Linda Randall; she wants to talk with Harry, and they agree to meet that evening at Harry's apartment. Harry feels like there was something he was going to do today, and then remembers: he calls Monica Sells to report what he's found. She tells him that she no longer wants him on the case and hangs up. Murphy puts Harry to bed and leaves, though he still feels like he's forgetting something.
When Harry wakes up, it is fully dark, and there's a thunderstorm. Harry can feel the raw energy of the storm as few people can. It occurs to him that a stupid or desperate sorcerer could tap into that power; he remembers that there had also been a storm the night that Jennifer and Tommy were killed. There's a knock on his door, and Harry answers it, expecting to see Linda. Instead, it's Susan Rodriguez; Harry has forgotten that they had a date that night. A short time later, an acid-spitting toad-demon shows up, bent on killing Harry. Harry ushers Susan into his subbasement while he battles the demon. He realizes that it it's too strong for him. Worried about Susan, he remembers the escape potion and tells Susan to find it and drink it. She does, but nothing happens. Then Susan comes back up with Harry's gun and shoots at the demon. She doesn't hurt it, but she distracts it enough to give Harry enough time to grab her and retreat back to the subbasement. Harry uses the bronze circle he has embedded in his laboratory floor to empower a circle, which holds the demon at bay, as long as Harry and Susan don't break the plane of the circle, which would negate its power. It's at this point that Bob informs Harry that Susan accidentally drank the love potion, and despite the threat of the demon, she starts to get rather... amorous.
Harry lets Bob out of the skull so that he can toss Harry the escape potion. Harry and Susan each drink half. The potion causes them to fly apart into tiny pieces, which can fly very fast. The potion only lasts a few seconds, but its enough for them to get out of the apartment and onto the street. There, they are greeted by a sending from the one who sent the demon. It taunts Harry, but Harry realizes that he's a better wizard and manages to counter the sending. Meanwhile, the demon has found them again, but the mixing of the two potions has made Susan very sick, and she can't stand, let alone run. Unwilling to leave her to die, Harry prepares to face the demon. The storm is still raging, and Harry realizes that he is desperate enough to try to tap into its energy, which he does and blows up the demon. Morgan then shows up, accusing Harry of summoning the demon, and informing Harry that the Council will convene the morning after next to heat Morgan's testimony. Then the police show up.
Turns out the police were sent by Murphy, after she couldn't get Harry on the phone, to come view a new murder scene. It's Linda Randall; she's been killed the same way Jennifer and Tommy were. Murphy informs Harry that Linda was working for Greg and Helen Beckitt, whose daughter Amanda had been accidentally killed a few years ago in a shoot-out between some of Marcone's thugs and another gang. Murphy has also found Harry's business card, and she's looking to Harry for some answers. Harry realizes that telling her what he knows will only put her in danger and not help her solve the murder, so despite feeling terrible about it, he tells her nothing. Murphy asks him to come down to the station to answer some questions. Harry says he's busy. Murphy tells him that if he doesn't come in to answer some questions by the next morning, she'll put out a warrant for him.
Harry calls a cab at a nearby pay phone. As he's waiting, he's assaulted by a man passing by. From his cologne, Harry recognizes this as the same man who attacked him with the baseball bat. After subduing Harry, the man cuts off a hank of Harry's hair. With his hair, a wizard could do pretty much whatever they wanted to him, including ripping his heart out. In desperation, he manages to grapple with the attacker to try to get his hair back. The man's hat gets knocked off during the struggle, and Harry recognizes the man as one of the bodyguards Marcone had with him when they met. The man manages to escape with the hair, and Harry's wondering what to do when he realizes that during their fight, he got some of the man's blood under his fingernails. Harry uses the blood to cast a spell to track the man. Just as he finishes, the cab shows up.
Harry tracks the man to the Varsity, a club owned by Marcone. He sees Marcone is there with his bodyguards. He tells Marcone that he wants his hair back. Marcone looks genuinely puzzled. Harry starts putting more puzzle pieces together and realizes that the bodyguard has turned on Marcone and is working for the man who's committing the murders now. He tells Marcone this, and the man panics, pulls a gun, and tries to shoot him, but Harry's shield spell protects him. Hendricks then shoots the man dead. Harry searches the body, but doesn't find his hair. Apparently it's already been delivered.
Harry's convinced that he's going to die in the next couple of days. If he doesn't have his heart ripped from his chest, he'll probably be executed by the White Council, and he has no leads on the Shadowman. As he usually does when he's depressed, he takes a walk. Without intending to, he finds himself back at Linda Randall's apartment. He goes inside and lies down on the floor. Then he's being awoken by the sun shining into his eyes. Turning his back on the sunlight, he discovers a film canister under Linda's bed with a roll of undeveloped pictures inside. It matches an empty canister he found at the lake house. Now he has a new lead to follow.
A man named Donny Wise enters the apartment; he's a photographer, and he's looking for the film. In exchange for returning the film, he tells Harry that Linda had asked him to take some pictures for her at the lake house. Harry doesn't believe that it's a coincidence that his two cases are related; he thinks he's been set up, and it's time to talk to Monica Sells.
Harry goes to Monica Sells' house. Monica confesses that Jennifer Stanton is her sister, and that her husband Victor killed her and the others. He discovered the magic a number of years ago and started researching it. Eventually, he created the ThreeEye drug, but couldn't manufacture it in the quantities that he wanted. He discovered the Beckitts as backers; they gave him all the money he needed, and in exchange he promised to help them get revenge on Marcone for the death of their daughter. Then through Jennifer he found people like Linda, who participated in the orgy rituals that generated the lust he needed to draw on to create the drug in quantity. Victor started to get darker then, and Monica became worried for her children, Jenny and Billy. Jennifer asked Victor to let Monica and the children go, threatening to go to the police and Marcone, so he killed her.
Harry leaves, deciding that he needs to confront Victor Sells, and he remembers that he has the scorpion talisman that he can use for that purpose. But in case he fails, he wants to make sure someone takes Victor down, so he calls Murphy's office. Carmichael answers and tells Harry that Murphy has gone to his office with a warrant. Harry calls his office, and Murphy answers. He can hear her searching his desk. Worried about the talisman, he warns her that she could be in danger. She doesn't believe him and thinks he might be hiding something. When she opens the drawer with the talisman, he hears the phone receiver drop, followed by some gunshots and a scream.
Harry hurries to his office. He finds Murphy, alive, but with blood on her shoulder. He calls 911. Disoriented from the brown scorpion poison, Murphy cuffs Harry to herself. That's when the scorpion, the size of a small dog, bursts out from under Harry's desk to attack him. He manages to fend it off long enough to get himself and Murphy out of the office, closing the door behind them. Sure that he can't handle the stairs with a mostly-out-of-it Murphy cuffed to him, Harry calls for the elevator. While he waits for it to arrive, the scorpion, bigger now, crashes through his office door. The elevator arrives just in time, and they head for the ground floor. The elevator gets to around the second floor before Harry's magic caused it to give out. Above them, Harry heard the scorpion ripping through the elevator doors and then, even bigger now, land on the roof of the elevator. Harry casts a spell to force the elevator up and squishes the scorpion between the elevator and the roof of the shaft. He then manages to cast a shield spell to protect himself and Murphy when the elevator plummets back to the ground floor, where they are greeted by bewildered EMTs. Harry rejoices in his victory until he's led outside by the EMTs, and the rain on his face and the sound of nearby thunder announce the arrival of the storm, and Harry no longer has the talisman to use against Victor Sells.
Harry manages to slip the handcuff over Murphy's hand and slips away while the EMTs are treating her. He walks to McAnallys and asks Mac to borrow his car. Mac tosses Harry the keys, but before he can leave, Morgan enters. He says that he's figured out that Harry is using the storms, and he and Harry are going to wait out the storm right there so he can be sure Harry doesn't try any more tricks. Knowing that that would mean his death, Harry attacks Morgan with a chair, knocking him out.
Harry gets lucky, and no police try to stop him as he speeds to the lake house, barely beating the storm there. Concerned about guardians or spells invisible to the naked eye, as he nears the house, he opens his Sight. He can See the dark power from the rituals that have been performed there, and he's tempted to just use that power to destroy the house, along with Victor and whoever else he may have with him, defying the White Council and its Laws of Magic. But then Harry feels a feminine presence which lifts his hand to his pentacle amulet (which had belonged to his mother), and he remembers that magic comes from life, and should not be used to kill. His anger vanishes, allowing him to think clearly again.
Inside the house, Harry finds a large living room, whose ceiling extends to the two-story roof. On one side is a raised platform with a combination kitchen and dining room, which is where Victor is performing the ritual, with the help of the Beckitts. Underneath the platform, Harry finds the ingredients for making ThreeEye, which is essentially a magic potion. Harry disrupts the ritual by breaking the circle. Victor throws fire at Harry, who deflects it, setting the ceiling beams on fire. Mr Beckitt fires at Harry with an automatic weapon, hitting him in the hip before Harry takes shelter behind the kitchen counter and the gun jams. Meanwhile, Victor release a half dozen scorpions like the one Harry fought at his office.
Harry uses an old cleaning spell to animate a broom, which then sweeps the still small scorpions off the deck into the living room below. The fire is starting to spread, so the Beckitts leave, and Victor summons the toad demon to make sure that Harry doesn't escape, but he makes the mistake of letting Harry hear the demon's name, and so Harry uses the name to break Victor's control of the demon. Harry and Victor struggle, and both fall over the balcony but manage to grab the railing. The demon latches onto Victor's shoulder. Harry snaps the loose end of the handcuffs, still attached to his wrist, to the railing, then pulls both Victor and the demon over the balcony. They fall to the floor below, where they're killed by the scorpions. Morgan then enters the house, coming for Harry. Then he passes out from smoke inhalation, due to the fire.
Harry comes to to find Morgan administering CPR. Morgan saw Harry fighting Victor, without breaking the Laws of Magic, and while he still doesn't trust Harry, his sense of duty and honor require him to report what he saw to the White Council, which ends up lifting the Doom of Damocles from Harry. The police arrive in time to arrest the Beckitts, who are later prosecuted on distribution charges after the police find the remains of the ThreeEye ingredients in the lake house.
An abridged version of Storm Front in two parts has been published by Dabel Brothers Publishing as a comic in two volumes, retelling the story.
References
Edit
External links
Edit