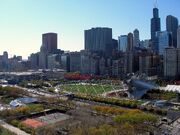 Millennium Park[Footnote 1] is a fairly boisterous public park located in the Loop area of Chicago, originally intended to celebrate the second millennium. It appears in the novelette Backup.
Description
Edit
A prominent civic center near the city's Lake Michigan shoreline, Millennium Park covers a 24.5-acre (99,000 m2) section of northwestern Grant Park. The area was previously occupied by parkland, rail yards, and parking lots. It currently features a variety of public art, a seasonal skating rink, and a large central sward overhung with white criss-crossed metal beams. As of 2009, Millennium Park trailed only Navy Pier as a Chicago tourist attraction, and in 2015, the park became the location of the city's annual Christmas tree lighting.[Footnote 1]
In the series
Edit
Main article: Backup
In Backup, Thomas Raith follows his brother Harry and the Stygian into Millennium Park with the intent to make contact with Harry and thereby warn him of the Stygian. While doing so, Thomas catches the scent of two Ghouls, and they close to attack. Thomas hides within a building nearby, attempting to reach Harry before the Ghouls reach him, but soon realizes that the Harry he went after was in fact the Stygian in disguise. After taking a magical attack by the Stygian and killing the two pursuant Ghouls, Thomas briefly speaks to the Stygian, before realizing that the magical bolt which struck him created an illusion around him, making him appear to be someone else. Mid-realization, the Stygian leaves the building and wards the door behind her before Thomas can react, leaving him with nothing to do but to depart as well.[1]
References
Edit