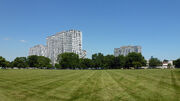 Lake Meadow Park,[Footnote 1] a possible alternate spelling for Lake Meadows Park, is located in the Douglas community, Chicago. It first appears in Summer Knight.
Description
Edit
The park was developed on a dilapidated area between 31st Street and South Parkway, starting in the 1950s and at least continuing in the 1980s and 1990s.[Footnote 1]
In the series
Edit
Summer Knight
Edit
Main article: Summer Knight (novel)
In Summer Knight, Harry Dresden investigates an unusual rain of toads in Lake Meadow Park, when William Borden meets him there. They're attacked by two teen gunners and a ghoul, which they rapidly defeat.[1]
References
Edit