The Hotel Sax, or Sax Hotel, is a hotel in downtown Chicago. It's first mentioned in Turn Coat. 
Description
Edit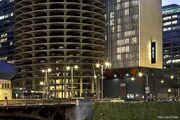 Hotel Sax is located on Dearborn across the street from the House of Blues[Footnote 1] in the Marina City Complex,[Footnote 2] in a relatively narrow street with the building stretch up and up at seemingly impossible angles.[1]
Internal decoration includes a lot of glass, white paint and rich red accents.[1]
In the series
Edit
Turn CoatEdit
Main article: Turn Coat
In Turn Coat, Vincent Graver phones Harry Dresden to report that Binder, who Dresden had him tail from the Police Station, is on his way to the Sax Hotel and he's expected to arrive in eighteen minutes.[2] Dresden meets him in the lobby; according to Graver, Binder is in room 1233 and is possibly with with a woman. Binder orders champagne with two glasse two minutes after getting off the elevator.[1]
Harry Dresden uses Silly String[Footnote 3] from a can to create a link for a spell—"finiculus sonitus"—to eavesdrop on Binder and Madeline Raith; she has called the White Council to inform them that Donald Morgan is in Dresden's company.[1]
↑ House of Blues - wikipedia
↑ Marina City - wikipedia
↑ Silly String - wikipedia
References
Edit
External references
Edit
Ad blocker interference detected!
Wikia is a free-to-use site that makes money from advertising. We have a modified experience for viewers using ad blockers

Wikia is not accessible if you've made further modifications. Remove the custom ad blocker rule(s) and the page will load as expected.